Wearing heels with your height? These women tell why or why not.


We surveyed tall ladies about their reasons for wearing heels or not.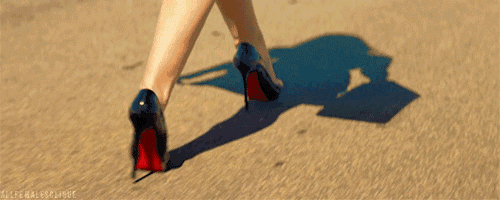 Karin (17) is 1.88 and wears heels. 'I have shoe size 44 and still wear heels of 5 to 10 centimeters. Higher heels under dresses and lower heels, so boots for example under long pants. The high heels are pumps, which I wear at parties or occasions where the dress code is a bit neater. Actually, as a tall woman, I always have the feeling that I'm a bit clumsy and intimidating, but I don't have that problem with my boyfriend. He is 2.05 meters long, I am very happy with that. He doesn't mind if I wear heels. He even thinks it's beautiful, because I feel good in it and that also radiates. I feel beautiful when I wear heels. Even though I'm tall, I like being even taller. It gives confidence.'
Hilde also sometimes gets reactions like 'You don't have to wear heels, do you? You're already so tall," or "Jeez, you're even taller," but don't let that stop you. "They are annoying, but everyone should do what they feel comfortable with and not be influenced by people who think they have a say in the clothing style of others." A wonderful motto, of course, but not everyone agrees.
Like Debbie. 'I don't wear heels. I think it's so beautiful, but I don't feel comfortable towering over everyone. I don't like to stand out, I'm really a sight when I'm wearing heels.'


There is also a middle ground: Erna is 1.87 and occasionally wears heels. 'I think a boot with a heel just looks much nicer with skinny jeans than flat boots. I must add that I have only been wearing them for 2 years.... I always find it a threshold when I put them back on after a period of sneakers and flat sandals. Then it takes some getting used to being a lot taller. Luckily I never had any nasty comments.'


What do you think? With or without heels? And under which outfit would you prefer to wear them? Let us know!